Review & Giveaway // Leaders Insolution Mask - AC Dressing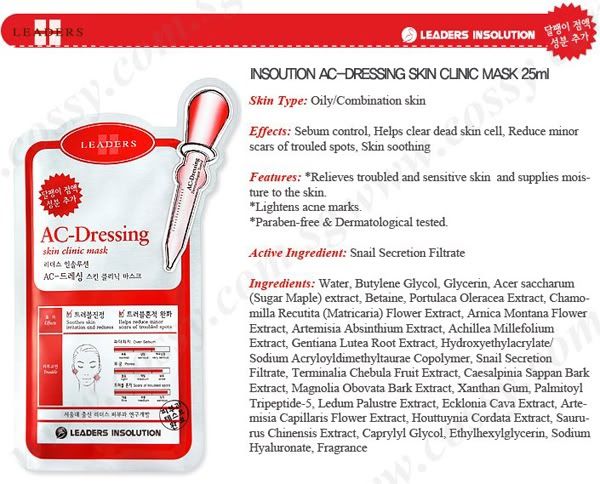 *image taken from cosy.com.sg
So recently , I've been having some acne problem and it leaves some acne marks on my face which is the biggest trouble I'm facing with my skin now . So I bought a few of this Leaders Insolution Mask to try to solve my problem .
When I first open this mask , the whole mask sheet is filled with the serum and it comes in
orangey
yellow color mask sheet . It has a slight medicinal smell , like the smell that you'll smell in hospital . When I wore the mask on , the serum keeps dripping down to my eyes and it's everywhere . So when you put this on , remember doing it in the bathroom .
After I applied the mask for 20 minutes and clean up after that , I do realize that some of the new acne marks that I have on my face is now less visible compare to before I apply the mask . So it does work after all , I'm amazed .
So since I've bought a few masks , I thought I would share with you guys by doing a giveaway at the same time .
I'll be doing one giveaway on Facebook and another one will be here on my blog .
The giveaway on my Facebook its pretty easy , all you need is to share and comment the photo below . I'll be choosing one winner at random , and he or she will win away 2 piece of this AC-Dressing Leader Insolution Mask .
So to win some mask for yourself , remember to complete the task on the rafflecopter app below !
Reminder : These giveaways open to all residents of Malaysia only .
*24/09 update : due to certain reasons , I decided to remove my giveaway on Facebook ! Sorry for inconvenience !
Disclaimer

:

The

giveaway

included in this post is

not sponsored

and the prize is provided by me personally.
a

Rafflecopter giveaway