Review // L'occitane Shea Butter Extra Gentle Soap - Verbena ( Giveaway Winner Announced )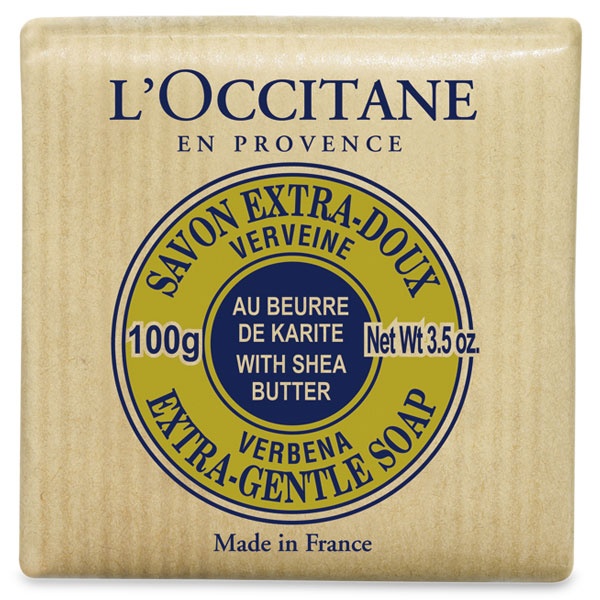 "Formulated with a 100% vegetable base and enriched with nourishing Shea Butter. L'Occitane works directly with women's Shea-processing collectives in western Africa, supporting economic recovery - and a heritage of natural harvesting traditions. Non-irritating; suitable for men, women and children."
I'm not really a person who bath with bar soap , but after I've tried L'occitane Shea Butter Extra Gentle Soap I think I've totally changed my opinion toward using bar soap . When I first open my drawer where my mom store this soap , I can smell the Verbana smell right away and it's really nice to smell . This soap is really moisturizing , it leaves my skin soft and moisturized feeling everytime I used it . Maybe all this while the bar soap that I used are brand like May or Lux , are not moisturizing enough so every time after I bathed with bar soap it left a dried and plastic feeling to my skin so I'm never a fan of bar soap . Now my bathroom is filled with the verbena smell because of the soap , I really love it and I'm using it ever since I opened them . So yeah , I'm really satisfied with the soap and I strongly recommend this to you guys .
Disclaimer

: This is not a sponsored post .
And now , I shall announce the winner of my first giveaway !
*drumroll please *
The winners for my first ever giveaway are
Li Na
and
Satthiya Gandhi . Since on my giveaway post I haven't shown you guys the picture of the products that I'm giving away as proof that my giveaway is real .So this is it . I've already emailed the winners and I'll send the gift to them next week . I really want to t
hank you guys for joining my first giveaway and do come back and read my blog often cause there's another giveaway on the way !
Thats

all for now and

bye

=3